When we aim to shop responsibly, certain labels serve as beacons in the grocery aisles: organic, B corporation, fair trade. These labels help us trust that companies have ethical practices, which aren't something we can take for granted (remember Nestle's slavery?).
But reassuring labels aren't everything, even in the coffee industry, where a history of colonialism and slavery has made verification of fair and ethical practices especially important.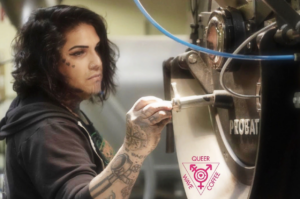 Cheyenne Xochitl Love of Queer Wave Coffee in Oakland, CA is among many in the industry who choose to forgo the fair trade certification. She has worked in coffee for almost thirty years as a barista, roaster, green coffee buyer, director of production, director of operations, salesperson, marketing specialist, director of coffee, and brand development director. 
Cheyenne believes third-party certification is important for larger companies with real purchasing power like Peet's, Starbucks, Blue Bottle, and Caribou, which roast millions of pounds of coffee per year.
"Fair-trade certifications are a really good way to keep those companies accountable for their purchasing so they aren't taking advantage of the volume and how much they can get for a smaller price," she said.
The current fair trade price of coffee is $1.40 per pound of beans. But roasters like Cheyenne pay much more than that to get the coffee to your kitchen.
Coffee changes hands several times on its way to the consumer. There's the farms, importers and exporters, the coffee roaster, and finally, the grocery store. With all of those exchanges come additional costs.
With Queer Wave Coffee, Cheyenne is dealing with the farms directly. "I get to see all of the prices involved." 
A lot of companies don't have that luxury, especially if they are buying coffee from different regions to offer a wide variety of blends.
Queer Wave coffee beans are harvested from Catracha Coffee, a social enterprise coffee farm collective in Honduras that encompasses 80-plus farms. The owner, Mayra Orellana Powell, was the subject of the 2013 coffee documentary 'The Way Back to Yarasquin.'
Cheyenne uses beans from various farms within the Catracha collective to create a signature blend, and then differentiates each flavor profile by roasting light, medium, dark, and espresso roasts. Creating variety using just one coffee helps with ensuring fair prices, and reduces Queer Wave's carbon footprint.
"Working with one collective allows me to stay as connected to the coffee and the people who are growing it as possible," Cheyenne said.
Queer Wave Coffee doesn't boast an 'organic' label, but the Catracha Coffee farmers don't use any pesticides on their coffee crops. "Why would they harm the ecosystem of the land where they live and grow their own food?"
This centralized supplier allows Cheyenne to build good relationships with everyone involved in getting the coffee from the plant to her roastery.
But using just Catracha Coffee beans has its downsides. 
"Using one supplier is against everything I was taught as a coffee roaster," she said.
Cheyenne said using a single supplier forces her to buy enough coffee for a year because of annual harvest times, and in a new burgeoning business, it can be hard to predict how many pounds of beans she will sell in each new year.
Despite all of the socially responsible considerations and transparency behind Queer Wave Coffee, Cheyenne "isn't interested" in using labels like 'fair trade' or 'organic' for marketing. Such labels drive up the price of coffee because they are expensive to obtain. 
Cheyenne wants her customers to know where the coffee comes from, who harvests it, what land she works on (Oakland is colonized Chochenyo Ohlone land), and that she, the owner, is an Indigenous, Two-Spirit, nonbinary trans woman. But beyond that, Queer Wave Coffee isn't promoted as a do-good company for positive press. Doing business in the way that she does is just part of her queer way of life. 
To Cheyenne, the 'queer' in Queer Wave Coffee means doing things differently. Queerness, anti-capitalism, anti-racist, and anti-patriarchy ideals inform her work.
"In my business, I ask myself 'What would capitalism do? What would patriarchy do?' and then I work against that and do the opposite." 
Practicing anti-capitalism in a capitalist paradigm with a business seems impossible, but Cheyenne says she isn't in the coffee industry for money. "I do this out of love. I believe work is how you contribute to the world, and this is my contribution."
When Cheyenne worked for others in the industry, she saw a lot of former tech workers who opened coffee shops to fulfill an early retirement dream. 
These men had funds from their high-paying Bay Area tech gigs at their disposal, and that advantage meant that the landscape of coffee shop ownership would be overwhelmingly white and male. 
Cheyenne also saw that most new coffee shops were being designed as workspaces, or with the expectation that people would pick up their coffee and be on their way.
Queer Wave Coffee's future brick-and-mortar cafe won't follow either model. Instead, it will be reminiscent of the coffee shops of the past. 
Coffee shops originated as havens for conversation and the sharing of knowledge. They were sometimes called 'penny universities' or 'schools of the wise.' Coffeehouses have a history of being queer spaces, too.
Cheyenne wants to address the lack of sober spaces for LGBTQ+ people by designing Queer Wave Coffee as a safe place where queer people can hang out and find community while enjoying coffee and mocktails. The company will fully live up to its name in every sense.
The impact of Queer Wave Coffee and the people it uplifts will reach far beyond any little green labels could ever show.
How does your favorite coffee company compare? Here are some questions you can ask:
Where is the coffee from?
How much do you pay per pound of coffee to the farmers that grow and harvest the coffee? What sustainability practices do your farmers use? 
If you aren't satisfied with what you discover, or you just want to try something new, you can order a bag of Queer Wave Coffee at www.queerwavecoffee.com or choose a weekly, bi-monthly, or monthly subscription.
By Kristen Pizzo January 20, 2022